Back
Bulgaria and Crypto Have A Deeper Connection Then One Might Think
Bulgaria is a popular country for opening crypto-related companies thanks to its advanced regulations.
More than 1000 crypto companies have been incorporated in Bulgaria in the past couple of years
We have prepared this article to inform those who are planning to open a crypto company in Bulgaria.
At the moment, the trading of cryptocurrencies is not regulated in any way, including activities such as selling, buying, and paying, and, therefore, a license is not required.
The reason is that Bulgaria lacks a comprehensive regulatory framework for fintech in general.
The Bulgarian Financial Supervision Commission published a development strategy for the cryptocurrency industry, which stated: 
Cyber ​​risk management, creating a safe place for cryptocurrency trading
Development of licensing procedures for crypto-currency companies offering innovative products in the field of finance
Preparation of a comprehensive legal and regulatory framework and control mechanisms
In 2020, the European Commission released the Digital Finance Development Package, which includes a digital finance strategy and an account for the regulation of crypto-assets and cyber security measures.
According to the EU, this package is meant to complement the existing legal framework for crypto assets and provide fragmentation of the rules.
The package is focused on:
Creation of an effective system for protecting the rights of consumers and investors
Promoting the safe development of cryptocurrencies by providing legal certainty - reducing the financial stability risks associated with the use of DLT and cryptocurrencies
Support for the creation of a fair competitive environment and innovative development in the field of issuing crypto assets and services.
This law removes previously existing regulatory hurdles that were associated with the issuance of trading cryptocurrencies considered financial instruments.
However, this law supports the principles of technology neutrality, which means that consumers can choose technologies that suit their needs. In addition, this package provides ICO and STO accounts of companies with more opportunities to raise funds.
In addition, the document included the goal of creating a framework for monitoring fraudulent activity and dishonest actions in the field of crypto.
Cryptocurrency Mining Law
At the moment, there is no law in Bulgaria regulating the mining of cryptocurrencies, which means that the courts in Bulgaria use precedents and decisions made by certain authorities in the country.
Some of these regulations and legal risks are associated with cryptocurrency mining. However, in case it turns out that it is directly related to the taxpayer, cryptocurrency mining can be provided for VAT purposes. Mining can be part of a commercial enterprise if the company is registered as a limited liability company in Bulgaria (ЕЕОД).
There is no licensing requirement in Bulgaria to register a company with such activity.
Nevertheless, this situation may change in the future.
Bulgarian legislation does not prohibit cryptocurrency mining, this activity is absolutely legal and subject to common law (including tax obligations)
Here you can learn more about the regulations of setting up a company in Bulgaria
Taxation of cryptocurrencies in Bulgaria
In accordance with the NRA Act of 2018, crypto activities are classified as a service that falls under the payment of VAT, if the operation is directly related to payment and is provided by a person subject to taxation.
In terms of Bulgarian taxation, cryptocurrencies are not treated to the same extent as income from the sale of financial assets. The applicable tax rate is 10%.
The Bulgarian National Revenue Agency identifies transactions with cryptocurrencies and fiat money. Thus, both of these categories are subject to taxation rules and are included in the tax return, which is submitted before April 30th.
Still don't see the complete picture about taxes? we wrote an article that covers everything you need to know about Taxation in Bulgaria
Regulation for opening a crypto company in Bulgaria
A statement from the Bulgarian National Revenue Agency from 2014 clarified the mode of operation with cryptocurrencies for individuals and legal entities.
National institutions such as banks demonstrated their position on this issue in 2017. By this time, many institutions were already involved in working with cryptocurrencies and gave permission to their users as well as to crypto exchanges to open bank accounts.
For more information about opening a crypto company in Bulgaria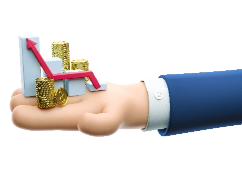 Requirements for starting a crypto business in Bulgaria
For activities related to the use of cryptocurrencies, corporate income tax is applied, which is 15%. The Bulgarian National Bank and the Financial Supervision Commission have stated that cryptocurrencies are neither financial instruments nor electronic money.
However, if a company wants to trade in such products, it should obtain a financial license in Bulgaria.
Transactions in which virtual assets are payment instruments are classified as financial services and are exempt from VAT. This decision is based on a number of judgments of the EU Court of Justice.
Ready to start doing business in Bulgaria? 
Opening a company can be complicated. 
Only 30% of our customers go through the online incorporation process completely by themselves. It doesn't mean the process is cumbersome, it just means that there are many nuances that need clarification before taking a step forward.
If you feel ready, we encourage you to take the online process for opening your company in Bulgaria
We can still offer assistance every step of the way, and nothing is irreversible, so you don't have to worry about "making mistakes" 
Not sure if you're ready? you can consult one of our experts right away and they can answer all your questions and set you on the right track