Back
Is Bulgaria an Attractive Option for Setting up Your Crypto Company?
When it comes to doing crypto-based business, no country is better than Bulgaria.
Bulgaria has a long and prosperous history, and its economy is booming. The business environment is friendly. The regulatory framework is conducive to developing crypto businesses.
Furthermore, the cost of living is low, so you can save money and invest more in your company. If you're looking for a country that is friendly to your business, look no further
Cryptocurrency Condition in the World
In the last few years, the cryptocurrency industry has been growing exponentially. The total market capitalization of all crypto markets has gone from $12 billion in January 2017 to over $800 billion in December 2017. This tremendous growth has been driven by several factors, including
The increasing popularity of Bitcoin and other cryptocurrencies
The rise of initial coin offerings (ICOs), and
The growing interest of institutional investors.
An increasing number of countries are favoring cryptocurrencies and blockchain technology. It is fueling industry expansion. In particular, many countries have become attractive destinations for setting up cryptocurrency companies. Bulgaria is one of the most reliable jurisdictions for setting up a cryptocurrency company.
How Can You Use Offshore Jurisdictions to Cut Taxes?
As a business owner, you know that tax rates can be a significant burden.
That's why looking for ways to cut your tax burden is essential.
Offshore jurisdictions offer a variety of benefits, including:
Reduced taxes
More flexible regulations
Enhanced privacy, and asset protection
Some countries offer offshore incorporation services. Picking the correct one for your company is essential. Using an offshore jurisdiction, you can keep your business profits optimized for tax, while still abiding by the authorities in your home country.
Offshore incorporations might be the best option if you're looking to form or extend your business in Bulgaria.
Benefits of Setting up an Offshore Crypto Company
Bulgaria is a crypto-friendly country that has welcomed the industry with open arms in recent years. As a result, businesses operating in Bulgaria can enjoy several advantages. For example, No capital gains or income tax on profits made from cryptocurrencies.
A modern regulatory environment is favorable to the industry's growth. International banks and other financial institutions are comfortable dealing with businesses in Bulgaria.
All this has helped make Bulgaria one of the most sought-after countries in the world to set up an offshore crypto company. If you would like to take your company to the next level, make sure to learn more about our services for crypto companies in Bulgaria.
Cryptocurrency Approval in an Offshore Jurisdiction
Cryptocurrencies are making waves worldwide, and Bulgaria is no exception. This Balkan country has been very proactive in welcoming this innovative new technology.
As a result, entrepreneurs who want to get a cryptocurrency license can do so with our help.
Furthermore, the authorities have shown no signs of hostility towards cryptocurrencies so far. This makes it an ideal option for businesses looking to set up a business in an offshore jurisdiction.
The country's stable and friendly regulatory environment makes it a great place to start.
Why Is Bulgaria the Most Attractive Option for Setting up Your Crypto Company?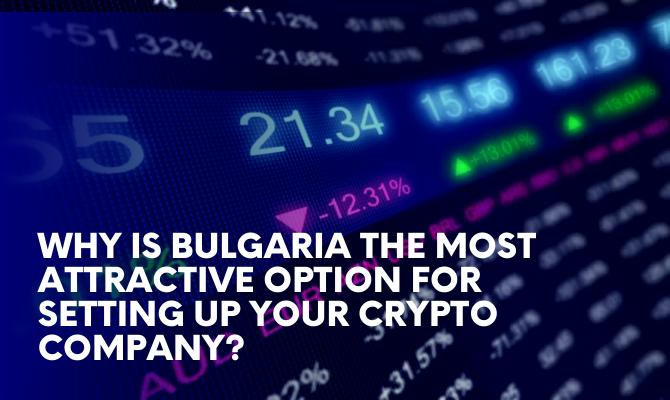 Here are some of the advantages Bulgaria has to offer for setting up the business:
First, the country has a very favorable tax regime for cryptocurrency companies. The corporate tax rate in Bulgaria is just 10%. Several tax exemptions and deferral opportunities are available for cryptocurrency companies.
Financially Developed Country
Bulgaria has a well-developed financial infrastructure. The country has several banks that offer banking services to cryptocurrency companies. Also, there is a growing number of cryptocurrency exchanges.
Favorable Regulatory Environment
Bulgaria has a favorable regulatory environment. The country has clear regulations for ICOs and cryptocurrency exchanges. The government is supportive of the development of the cryptocurrency industry.
Bulgaria has a strong talent pool. The country has many universities that offer courses on blockchain technology and cryptocurrencies. There is a growing community of developers and entrepreneurs working in the space.
Bulgaria is a lovely country with a low housing cost. The country offers a high quality of life at a very affordable price. Setting up a company and obtaining the necessary licenses and permits is easy
The Regulatory Framework Is Conducive to Crypto Businesses
Cryptocurrencies are growing in popularity worldwide, and Bulgaria is no exception. This is because of the country's digital currency and blockchain regulations. This allows for the growth of crypto-related businesses, which benefits investors. As a result, Bulgaria is a great place to do business with cryptocurrencies and blockchain technology.
Business Friendly Regulations
Cryptocurrencies and blockchain technology are transforming the mode we live and work. Bulgaria is a great place to do business. Its business-friendly regulations make it an ideal location for cryptocurrency businesses. The country's robust infrastructure and business regulations make it a perfect place to set up a company.
The government makes it easy to get started, and the citizens are friendly and welcoming. It makes for great customer and employee relations. If you're looking for a crypto-friendly country to do business in, Bulgaria is the place for you!
Strong Economic Background
There are many reasons why Bulgaria is a great place to do business. The country has a solid economic background and a long history of being a significant player in the European Union. It is well-educated, with a highly skilled workforce.
Additionally, the government is supportive of business. There are no substantial taxes that companies have to worry about. These factors make it a superb place to start and grow a business.
Additionally, the country offers affordable living costs for companies looking to set up shops in the region. All in all, these factors make Bulgaria an ideal destination for businesses of all sizes and industries.
Requirements to Start a Business in Bulgaria
Bulgaria is a crypto-friendly country that is rapidly growing in the digital world. It has several requirements and regulations to start a business. Still, the overall process is straightforward. The country offers several benefits for entrepreneurs. Requirements for starting a business in Bulgaria include the following:
Completing an application form and submitting it to the relevant authorities.
Paying a registration fee.
Paying no taxes or tariffs on imports or exports.
The Bulgarian economy is growing rapidly, making it an ideal place to do business. The country has a population of just 7.2 million people, making it easy to find qualified employees and access a wide range of resources.
Bulgarian Requirements for Launching a Crypto Firm
When doing business in Bulgaria, knowing the legal requirements is essential. Make sure to choose a good business name that is easy to remember and trademark. Additionally, ensure the company includes the necessary permits and licenses and meets all your requirements. Suppose you are an investor looking to establish a cryptocurrency firm in Bulgaria. In that case, we recommend consulting with company formation experts. WeForm for example can help you with advice on the necessary paperwork and other requirements for setting up your business hassle-free. When settling on a Bulgarian crypto startup, it is essential to consider the following factors:
Install a safe method of currency exchange with no hidden conditions or costs
Provide assistance and great customer service
Develop crypto applications for customers
Sign a contract with a Bulgarian bank
Abide by rules and regulations enforced by the National Bank of Bulgaria.
Once you've verified all the details and met all the essentials, it's time to pay the startup registration fee. Then you'll have to wait for the green light from relevant authorities. In the meantime, stay up-to-date with business news and events in Bulgaria, So you're fully prepared for when everything goes live.
Legal Address Requirements in Bulgaria
When doing business in Bulgaria, knowing the legal address requirements is essential.
To establish a legal business presence in the country, you must have a registered address.
This address can be used for tax purposes and can likewise be employed as the basis for bank accounts. Ensure you are familiar with the current cryptocurrencies and blockchain technology laws. They may have changed since you last researched the subject.
Finally, always ensure that you have the latest insurance procedures in case of any issues. Doing so will protect your business and its employees from any unforeseen circumstances.
Share Capital Requirements for Business Registration in Bulgaria
Bulgaria is a crypto-friendly country that welcomes businesses of all sizes. This means you can easily register your company and start operating without problems. There are no specific capital requirements for business registration in Bulgaria. This is excellent news because you can incorporate a company with as little capital as you can afford.
The country's regulatory framework is well-established and has a strong economy. Thanks to the friendly environment and stable infrastructure, you'll be able to operate your business without any problems.
About the Bulgarian "Citizenship by Investment" Program
Bulgaria is a crypto-friendly country that is open to business. It widely accepts cryptocurrency and blockchain technology-based businesses. This makes it a great place to do business as the country embraces innovative technology. Foreigners can quickly become Bulgarian citizens through the citizenship-by-investment scheme.
The program has several benefits, including stability and low living costs. The program also offers plenty of opportunities to invest in Bulgarian companies. So, if you're looking for a stable and friendly country to do business in, look no further than Bulgaria.
Who Should Consider Bulgarian Citizenship by Investment?
When it comes to doing business, Bulgaria is a country that has it all. Not only is it a gateway to the EU, but it's also become a popular destination for blockchain investors. This is thanks to the government's supportive stance towards the technology. Also, the burgeoning cryptocurrency and blockchain businesses have set up shop there.
Many qualified professionals are present in Bulgarian society, making it easy to find the assistance you need. The country's stable economy and diverse market make it an excellent investment destination.
Is Bulgarian Citizenship a Good Option For Me?
Bulgaria is a great country to do business in due to its stable economy, low taxation rates, and well-developed legal system. As a business owner, the benefits of Bulgarian citizenship are clear – you'll have access to various benefits and protections.
The country is home to many English-speaking professionals, so communication shouldn't be an issue. Bulgaria is worth considering if you're looking for a country that is fruitful for the cryptocurrency industry specifically and friendly to non-residents in general.
In today's digital world, having a business that can operate in a global market is more critical than ever.
Bulgaria is a perfect country to set up blockchain-based business ventures.
Business-friendly regulations
Favorable tax regime for digital assets (crypto)
Solid economic background
regulatory framework supporting crypto businesses.
If you are pondering setting up a business in Bulgaria, check our website for more information.